Event Flooring Challenge Accepted: The Marvel Experience
Jan 8th 2015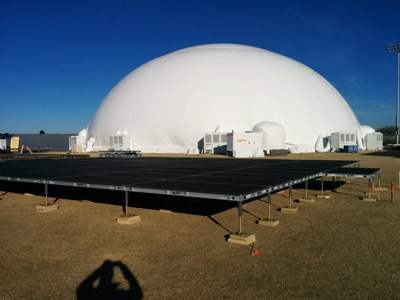 Visitors to The Marvel Experience face a one-of-a-kind challenge as they join their favorite superheroes like Spider-Man, Hulk, Thor and Iron Man on a mission to save the planet. This interactive hyper-reality event deploys next-generation technology, advanced computer animation, augmented reality, multi-person gaming, a 4-D motion ride, and a 360-degree, 3-D stereoscopic projection dome to make visitors feel like they're part of the action as they experience the world of Marvel like never before.
And Brumark faced a fun challenge, too: Providing all the event flooring for the walkways and four huge domes involved in this massive touring event, which covers more than two acres. The flooring needed to be quick and easy to install - in just one day! - simple to transport, and durable enough to support all the structures, technology, and foot traffic involved in this cutting-edge event.
It was an incredibly exciting challenge, and one we rose to easily through the use of our quick-deploy outdoor event flooring. The Marvel Experience premiered in Scottsdale, Arizona in December and will be in Dallas next, from January 15 - February 1. The organizers are currently planning stops in more than 14 cities across the U.S. in 2015.
Please follow along as we share this cool, one-of-a-kind experience from our perspective - from the floor up - on the Brumark Facebook page. You can also check out The Marvel Experience website for details and Instagram for fun photos.